Roof Repair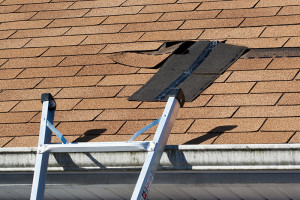 It makes good sense to have a roof inspection performed regularly to prevent roof leaks in your home or place of business. Unfortunately, improper workmanship and weather-related conditions are common reasons for roof repairs. Some of these repairs are obvious, while others can be less so. Do you need a roof repair for any of these reasons? Following is an overview of each, and the damage caused by leaving it unattended.
Roof Repairs due to Leaks:
All products have an expected lifespan, over time as the roofing material degrades it is more prevalent to leak. The flexibility and sealing capabilities slowly erode and troublesome areas around dormers and valleys usually begin to leak first. Many homeowners are surprised to learn that many roof leaks are not obvious. They can linger sometimes for years before the damage is obvious to the naked eye. Slow leaks that go undetected for long periods of time can cause the harmful growth of mold, insulation degradation, structural damage and in the most severe cases, the complete collapsing of the roof.
Roof Repairs due to Improper Workmanship:
According to experts, approximately 90% of all roof leaks are due to improper installation. Improperly installed roofs are more common than homeowners think. This is why they should only be installed by certified craftsman. Many shingle manufacturers will only stand by their warranty after inspecting the roof to determine whether the product was installed correctly based on their criteria.
One of the most common problems in this area is shingle installation. It can be as simple as shingles which are fastened or trimmed incorrectly. Improperly installed shingles can lead to larger, more expensive repairs like those caused by water damage and foundation erosion.
Roof Repairs due Weather-related Issues:
Roofs are exposed to the elements all day, every day. Over time, the materials it is made from become damaged from excessive heat, cold, rain, wind, ice, snow and various types of debris.
Clogged gutters, missing shingles and slow leaks can all happen as a result of this breakdown in your roof. Regular maintenance and routine roof inspections can catch minor problems before they become big, expensive ones.
What do you do? Give Springer Brothers a call – we're the area's roof repair specialists for damaged roofs, leaky slate tiles, flashing leaks, soil pipe collar replacement, missing shingles and gutter damage. Our licensed, professional roof repair team has years of experience in all types of roofing, including:
Metal
Slate
Cedar
Asphalt
Copper
Don't let that roof leak become the need for a new roof – call us today for your emergency roof repair needs. We'll come right out and evaluate the damage, and let you know what you can expect in terms of time and cost. We're quick, efficient and we get the job done right the first time.
Why Choose Us?
Free Estimates
Good Service, Good Quality, Good Prices
30+ Years of Service
Lead-Safe Certified Firm
A + Rating With BBB
OWENS CORNING Preferred Contractor
Master Elite Certified GAF/ELK Vendor
CERTAINTEED certified "Shingle Master" and member of their Advisory Council
TAMKO Master certified
Serving Chester County PA, Berks County PA, Montgomery County PA and Lancaster County PA
Contact Springer Brothers, Inc for