Gutter Repair Service
Properly installed and maintained rain gutter can save countless hundreds and even thousands of dollars in roofing, fascia, siding and foundation repairs. As an established roofing business in West Chester, PA, we're pleased to offer a full menu of gutter services, including:
Gutter repair
Gutter replacement
New gutter installation
Seamless gutters
Rain collection systems
Gutter Cleanings
Why Choose Springer Brothers?
Home and roof designs vary greatly, so Springer Brothers offers a variety of gutter options to choose from. Rectangular style gutters are a traditional application, but there are also rounded and custom gutter designs available, a whole rainbow of colors, and several metal finishes, including copper, stainless steel, and aluminum that range from sleek and modern to worn and patina. Springer Brothers are experts at installing copper, steel, vinyl and aluminum gutters, in your choice of styles and colors. Please take a look at the color chart at the bottom of this page!
Gutter systems blend into and enhance the style of your home. Gutters are often chosen to match the trim color of the house, with K-style gutters designed to mimic colonial style crown molding. Half round gutters in copper or steel blend well with older homes and work best with rounded roof lines. Copper or lead gutter medallions and ornate downspouts can add architectural interest to the exterior of the home and work with the home's other design details.
Whether your home is in one of the historical sections of town or in a more modern neighborhood expect the best advice and highest quality gutter installation and gutter materials.
Springer Brothers has the ability to fabricate 5" Seamless K-Style aluminum gutters on-site through our 5" gutter machine. This ensures each run of gutter is cut to perfection specifically for your house. 6" K-Style,  6" & 7" Box Gutter, and ½" Round Gutter fabrication and installations are also available!
Copper Gutters
There are several reasons to use copper gutters on a home, beyond the aesthetic look it adds. Copper gutters are very corrosion-resistant, so they will endure even in harsh conditions and areas with a great deal of acid rain. It is also sturdy, and it meshes well with a wide variety of roofing materials, including slate, cedar shakes, and composite roofing. Copper gutters also do not need to be painted, although people who want to reduce the development of a patina may need to periodically strip and re-seal their copper gutters with products designed for this purpose.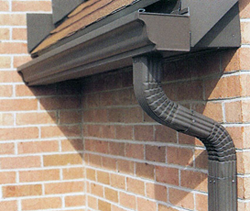 Aluminum Gutters
The most commonly used material for gutters are aluminum and steel. Many homeowners and builders prefer aluminum gutters because they remain rustproof and cost less than other types. Aluminum gutter systems are durable and can last twenty or more years in a variety of climates. They also come in numerous colors and are easy to shape. Lastly, many aluminum gutters are completely seamless which means they will be highly effective in doing their job – preventing water from eroding the foundation, walkways, patios, or siding of your home. Therefore it is essential that you have the best drainage system possible in order to protect your house, and the best drainage investment on the market comes in the form of seamless gutters.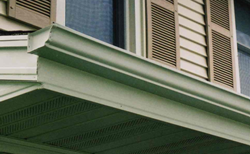 Downspouts
Gutter downspouts are a major component of every home's design, providing proper rain water drainage and diversion. Downspouts are metal pipes that connect with a home's gutter system and carry rain water from the roof to the ground. Downspouts can be fitted with elbow connections at the end, which funnel water away from the home's foundation and border landscaping. Another option is for downspouts to connect to PVC pipes that convey water into an underground drainage system. Downspouts protect the home's roof, siding and foundation from water damage and help prevent flooding of the home's basement.
Serving Chester County PA, Berks County PA, Montgomery County PA and Lancaster County PA
Contact Springer Bros., Inc for